We at NLC Express aim to make things as easy as possible for each of our clients. Part of this is our flexible approach to taking orders and payments.
Many of our clients place regular orders with us with a single phone call and leaving us to do the rest. Other clients with a formalised ordering process will e-mail a purchase order and confirm in writing. Likewise, some clients prefer to pay by credit card while others prefer do so via BACS. In all of these cases we will have provided a firm price which we keep to.
Request a Quotation
In the first instance please ask us for our price quotation. We've a variety of ways you can communicate with us listed on our website CONTACT page.
Our friendly and knowledgeable sales team are happy to process quotation requests and advise clients on choices they have.
When calling by phone please have to hand the following information:
A rough description: (i.e. boxes, pallet(s), etc.)
If over 50 kg, approx Weight
Collect-from Origin
Deliver-to Destination
Available time window of Collection
As an alternative to calling on the phone you're welcome to use our yellow Quotation Request form on this website. It will ask you to provide collection and delivery postcodes and other information. We will then reply to you with a fixed price.
Your Go-Ahead
All we need from you is your go-ahead to collect, from here onwards you can leave us to do the rest.
In the meantime our client telephone order line will at all times remain open-24/7 for all of our services.
Proof Of Delivery
We collect and retain a POD for every consignment delivered. It records the time of delivery, a signature and the name given at the delivery point. These are available on request.
Payment Methods
The majority of our clients have a monthly billed corporate account with us. We can set this up for you too if wish.
If you don't have an account with us you may simply pay over the phone using your credit or debit card.
We accept payment through:
Credit or Debit Card
Cheque
BACS
Cash
Monthly Account
Online Ordering WebApp
Coming soon. We will introduce online ordering the near future complete with instant price quotes, order management, POD access and more.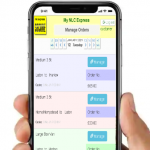 We'll announce more about nearer the time.